Happy Chinese New Year bloggers 

Snake Year!
It is so much fun when you get to celebrate two new years right? :D
So I've been addicted to online shopping lately (oh my!). This is the jean I got from American Eagle (the most current online item lolz)
-I like buying American Eagle Jean online because the color is very true on real life compare to online pictures. Moreover, I'm very lazy on shopping for jeans in store (talk about trying 10 different one in the fitting room). Beside, if you know your size for one pair of EA jean then it's likely you will get the same size for every other jean after that :D
-I got this new hair bun maker thing and it's very easy to make the bun. Yet, I have a problem!!!! the side of my hair keep sticking out of the bun maker no matter how hard I try to pinned it down :(. Any help?

And Happy Birthday to my lovely mommy too :D
----------------------------------------- Work/Life Update-------------------------------------------------
The picture above depicted the amount of food we have leftover after orientation at work!!! and the interesting mural that I spotted while walking around!
So... uni life is so busy as usual. My new chemistry lab partner is soooooooooo annoying (the nerve!) She keeps taking my friend's seat in lecture!
Also, I met a boy in Calculus that look just like Draco in Harry Potter. This one: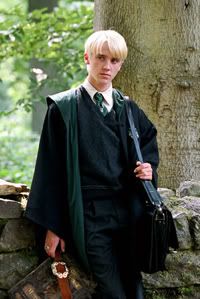 and I was like O_O staring at him (don't get me wrong! I have no attraction toward this boy!) but he look just like Draco! Anyway, he now think I have a HUGE crush on him because I stared at him on the first day of school. =_=
Chemistry and Calculus Unit 1 tests are coming soon. Oh dear god! Pray for my soul and my grade to stay intact!
-XOXO
Charlotte